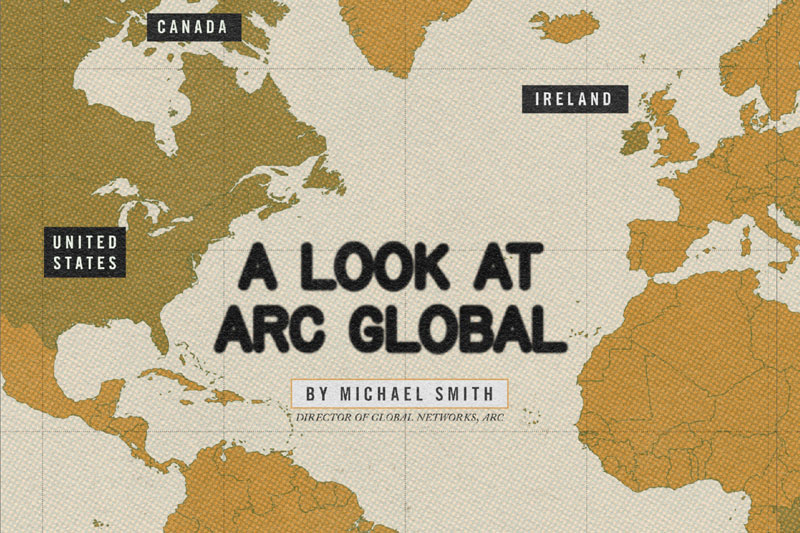 When describing ARC church planting, you may think of words like relationship, training, coaching, and funding. And you've probably considered planting in the context of changing the United States. Our nation needs God badly, so ARC plants life-giving churches across the United States to reach the United States.
Over the years ARC has been asked to expand its mission and plant churches in other countries around the world. Perhaps its large launches and model of strong church-plant preparation provided the inspiration global leaders found in ARC. Maybe the impact of new church plants or ARC's financial model had a profound effect. Regardless, the ARC United States Lead Team always stepped back feeling we had neither the expertise to approve and train church planters in faraway places nor the seemingly unlimited resources needed to make it happen. ARC was designed to be a United States church-planting organization.
The late Billy Hornsby who led ARC so well during its first 10 years gave his last public message in February of 2011. He said that he saw a picture in heaven of ARC exploding in the years ahead. In this vision an angel asked, "Who let the dogs out?!"
We all cheered after hearing God's word to us about our future. Two months later Billy passed away, and new levels of growth began to take place that would transform ARC, including an expansion that we now call ARC Global. However, this time it was not about planting individual churches, but rather launching new ARC "networks" in other countries—networks that would plant and fund their own churches and be connected to ARC United States as a part of the larger family.
The first ARC Global church launched in Ireland. Andrew McCourt met with Greg Surratt and convinced him it was possible to see the ARC network replicated and life-giving churches planted on the island. Five years ago two charters, two bank accounts, and three board members from each country—Northern Ireland and the Republic—were assembled. Today Ireland has a strong lead team that has planted four new churches and trained many more in ARC's life-giving model.
Canada was next. John and Helen Burns, Brent Cantelon, and Jonathan Lambert met with Greg and me in the green room at the ARC Conference in Jacksonville and proclaimed: "We can do this!" Today the country has planted 18 churches and a handful of campus launches. And more than 40 churches are giving to the church-planting mission through ARC Canada.
Australia was in the hunt as well. The nation has trained multiple church planters and planted six churches. Then three years ago South Africa joined. Today the country has established 15 partner churches and launched six new church plants in what is called ARC Southern Africa. And Asia, a non-public ARC, has planted 38 churches! The churches in this network are navigating a difficult climate, but their excellent leaders are guiding them well.
We celebrate what is being accomplished through these church leaders around the world. They, along with many other pastors and leaders in our ARC family, have shepherded the development and growth of ARC Global.
Most recently, in January of this year, ARC Pakistan launched. For a number of years, Mushtaq and Kanwel Anjum and their team have worked to build relationships, bring a life-giving culture, and elevate the conversation of church planting in Pakistan. More than 1100 people attended the first conference in Karachi, making it the largest ARC conference outside of the Unites States!
Some pastors across the globe do not have an "official" ARC network, but we consider them family. They have carried the spirit of ARC by promoting life-giving churches, generosity, a friendly environment, and intentional church growth to change their nations.
We celebrate what is being accomplished through these church leaders around the world. They, along with many other pastors and leaders in our ARC family, have shepherded the development and growth of ARC Global. These leaders include Michael Murphy, Rob Hoskins, David Branker, Robert Barriger, Rod Plummer, Sebaastian van Wessem, Desmond Frey, Philip Murdoch, Eduardo Fernandez, Samuel Stephens, Gary Skinner, Jerry and Sharon Miner, and Helen Balzer.
What does it take to start an ARC network in another country? It begins with a team. This is by far the most important and challenging aspect—gathering a team of senior pastors and leaders that has regional or national influence to bring others to the table. These teams invest financially in their ARC networks so young couples have the resources to plant life-giving churches. These pastors interface with the ARC United States Lead Team and other global lead teams. Finally, these teams steward the ARC movement with excellence, integrity, and authenticity.
It often takes one to two years to assemble a lead team. During that time, the network is officially organized as a charity or government-approved organization in many countries. Next tasks include establishing banks accounts and funding for the organization; contextualizing the launch model; building the digital infrastructure (website, database, accounting software, and launch dashboard); and working with budgets, funding models, and conferencing.
What does a fully functioning ARC network look like? In most places it includes a leadership team of three to five lead pastors or couples that will underwrite all ARC operational costs in that country while contributing resources to a church-planting pool. It has a funding partner base with a minimum of 10 to 15 existing churches partnering to plant new churches. It reflects a fully contextualized church planting model applying the principles from the ARC United States Network. Its financial model effectively funds part of the total cost of the church plant while re-investing money in ARC for the next church planter. Lastly, it looks like an organization that carries ARC's values and DNA: life-giving, generous, empowering, gift-oriented, focused on reaching the unchurched, and powered by prayer. And we have a 35-page manual to help with this process!
Recently ARC United States has begun investing more resources in these global networks. Once a network builds its lead team with giving churches and organizes itself operationally, ARC United States will partner with that network to provide digital resources. The global networks remain autonomous but function a bit like franchises. They are family. As such, ARC United States will provide the digital infrastructure needed, including ARC branding, website, graphics, training modules, and so forth.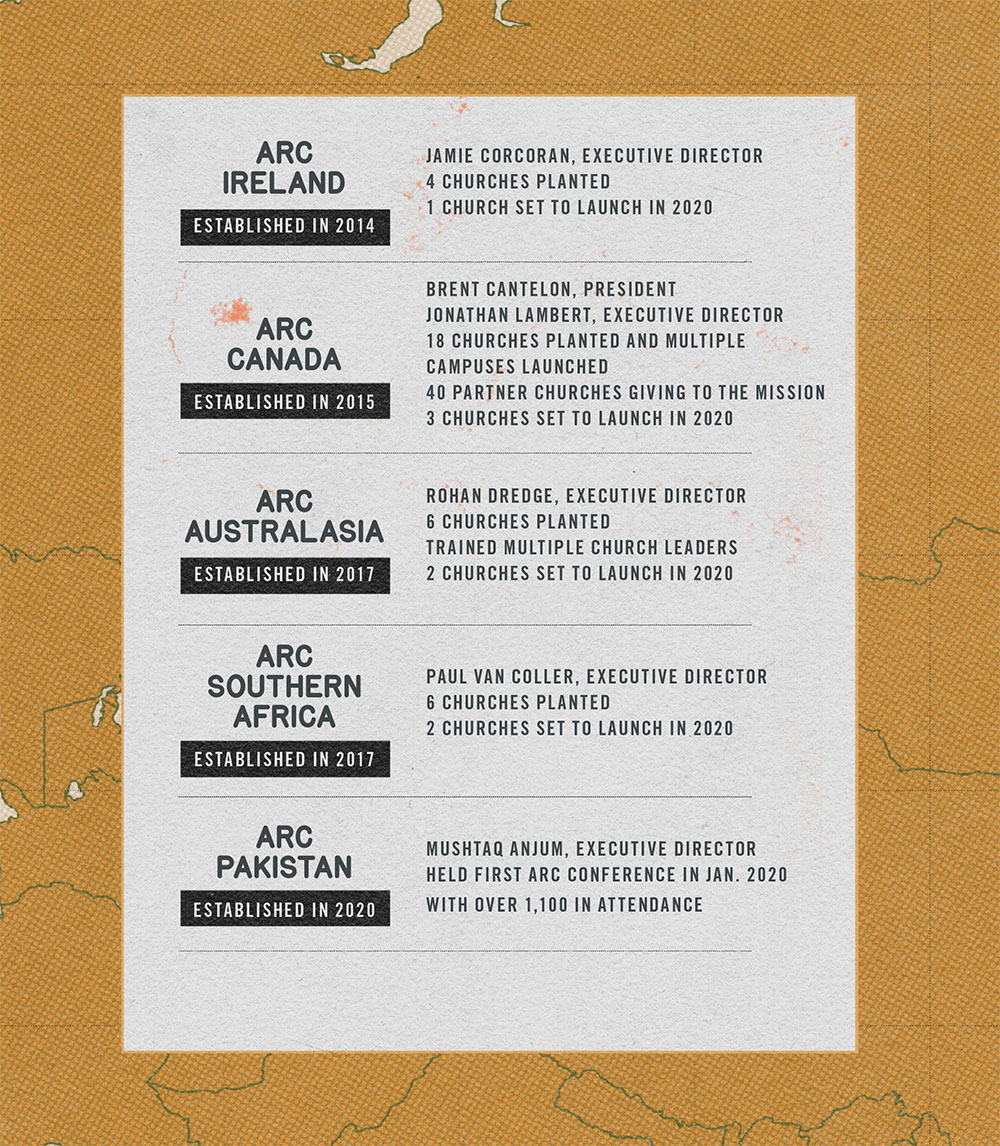 Where are we headed next? There are several opportunities in Europe, including England and Germany. Brazil has been working hard to form a team as well.
How can you be involved? It's a standard mantra in the church-planting world: Pray, give, and go. Pray for these leaders and the work they are doing. Give to these growing networks. Some are totally self-sufficient, and others are still getting off the ground. You might consider a one-time missions gift to these fledgling networks.
Finally, go. Don't merely show up, but support a conference by sending a missions team to serve as dream teamers, or go and meet with a lead team or local church staff. These men and women are amazing leaders who often have surpassed ARC United States by growing despite less-than-ideal economic situations and oppression. But like us, they love to learn, be inspired, and see ARC's culture spread throughout the earth!
—
Michael Smith is the Director of ARC Global. ARC has five global networks helping new and existing churches thrive by providing leaders with relationships, resources, and opportunities. These networks are Asia, Australia, Canada, Ireland, Pakistan, and Southern Africa. They hold ARC Conferences, Launch Intensive Trainings, and ARC Meetups, similar to those in the United States. To learn more about ARC Global's networks, visit arcchurches.com/global.
Next Article
Previous Article