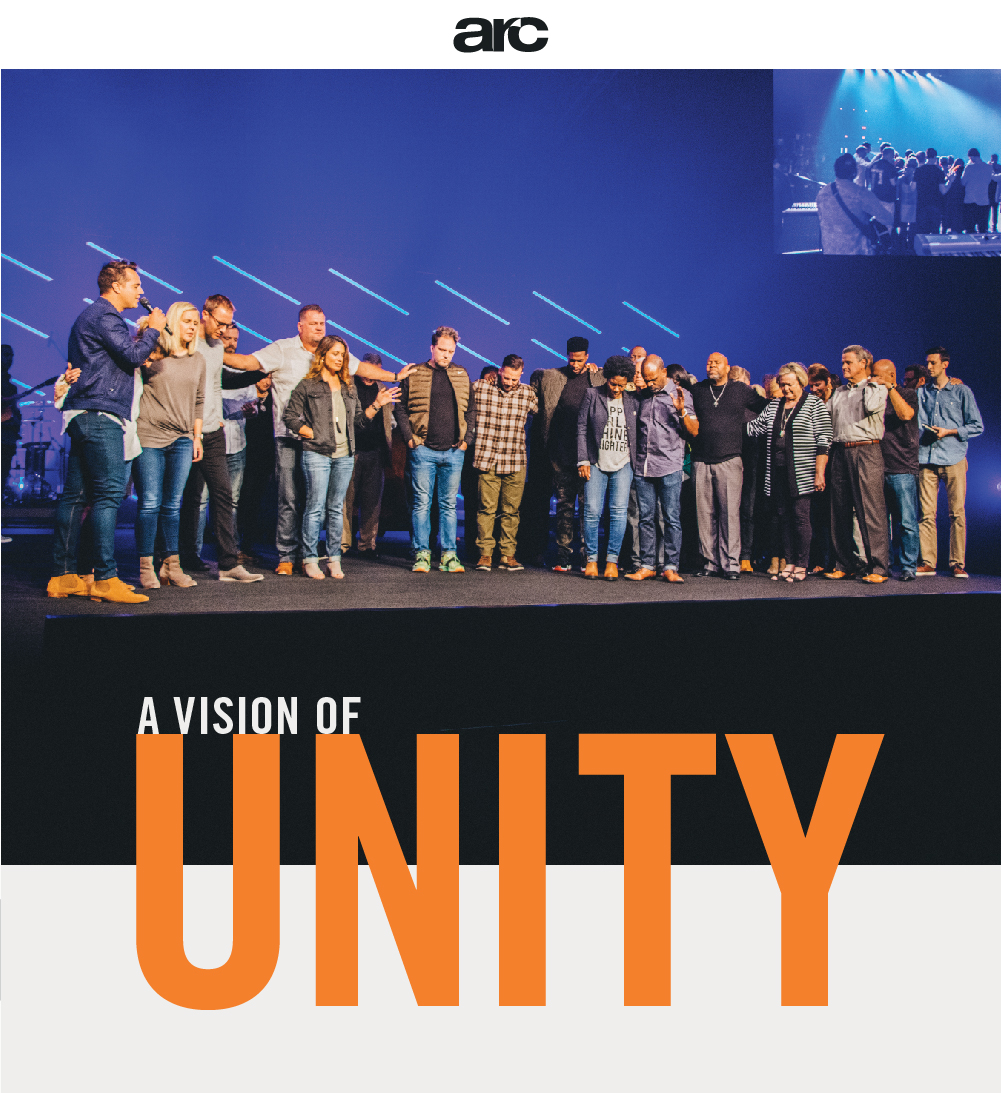 We sat down with Jason Law, President of World Compassion, to talk about what unity looks like and how it's changing the culture of the local church. He and local pastors in Tulsa, Oklahoma began Unite My City, a movement of local churches operating together in unity through relationships, prayer, worship, and service.
In the first part of John 17, Jesus is praying for His immediate disciples, His 12. In the second part, He's praying for everybody—every believer—that they will come to know the Father through Jesus Christ. He says, "God I pray that they are one, just as you and I are one."
I believe we are one in Christ—with those who accept Jesus as Lord and Savior, we're united spiritually. I believe there's another piece that has not yet come to fruition—when he says, "God I pray that they are one, as you and I are one, so that the world may know that you sent me."
This proves the sonship of Jesus. When the world sees us functioning together as one, they see Jesus the son, and they see that God sent Him. Also, it proves to the world that God loves them just as he loved His son.
At what level can we express our love for one another so it proves to the world that God loves them just as He loved His son? It must be big and powerful enough for the world to take notice. When they can see churches and ministries, in the context of the city, working together at such a level, then the world—our cities—must take notice.
There are four pillars that help create lanes for structure and begin putting legs to the vision of unity that we want to see come to reality.
Relationships
First, we must have a vertical relationship with God the Father, but we also must focus on relationships between church leaders in the city. I believe the local church is the Body of Christ within a certain geographic region. There are different congregations throughout the city, and those collectively are what make the local church. Creating trusted relationships between church leaders is the backbone to the Unite My City movement.
From that place of trust, we can move forward, begin to do things together, and mobilize the Body of Christ. Psalm 133 says, "Behold, how good and how pleasant it is for brethren to dwell together in unity! It is like the precious oil upon the head, running down on the beard, the beard of Aaron, running down on the edge of his garments.… For there the Lord commanded the blessing—Life forevermore."
Aaron was a priestly leader, appointed by Moses. I believe this Scripture in Psalms show us that unity is driven by the Holy Spirit. No man can do it; we can only respond to it. I believe God is pouring out a move of unity over His Church, and it's going to start with His priestly leaders—the pastors.
We began working on the Unite My City initiative years ago. I was in talks with Pastor Michael Todd at Transformation Church (Tulsa, OK) about hosting a racial healing panel, when the Terence Crutcher shooting took place here in Tulsa. [On September 16, 2016, Terence Crutcher was shot and killed by a police officer while standing in the middle of a street near his vehicle.]
Pastor Michael called me and said, "Now is the time. We can't wait two months to plan this; we've got to do something now." I agreed. We decided to hold a breakfast at Transformation Church, and 72 lead pastors from around the city came together. We talked about racial reconciliation for our city, but more importantly, we divided into small groups and everyone asked each other questions and listened to one another. Some amazing stories came out of that time.
There was a Nazarene pastor there who had pastored the officer who fired the shot. Terrence Crutcher's cousin, who also is a pastor in town, was at the meeting. These pastors didn't know each other at all but randomly ended up in the same group. God was in that moment. Today, three years later, these pastors still talk. They've done pulpit swaps and have developed relationships. There is good coming out of that situation that I believe ultimately is leading to sustainable healing for our city.
Prayer 
Once you're in relationship with one another, you can trust each other enough to pray together. Not only pray because there's a crisis but come together and get your hearts to a place of one accord.
In the Upper Room, the apostles were first in one accord. When they prayed, the power of the Holy Spirit came. I think that order is important. If we want God to work in our hearts, and we want revival to hit our cities, it's time to get to a place of one accord. From that place, we can seek God's direction for what He wants to do in our city together.
Unity is not uniformity. Biblical unity is about rallying around one purpose without sacrificing individuality. ARC does a beautiful job of articulating this. We're all created in uniqueness, but when we come together in prayer, seeking God's direction for what he wants to do in the city, then He's going to align hearts to take on causes (which is the fourth pillar). I believe anything significant is going to be birthed and sustained from a place of prayer.
Worship
Worship is a unifier. There are different expressions and styles. Some people prefer loud music, some more hymnal music, and others like something in between—but regardless, music is a unifier. We conduct Unite My City worship nights, or "One Voice." It's an intentional time when our minds are focused on glorifying God. We're not coming together as this church or that church, but to worship as the Body of Christ. It allows not just the pastors to build relationship with one another but the congregations, too.
These are diverse congregations coming together to worship the father with one voice. We're seeing churches conduct joint congregational worship events where predominately white congregations and primarily black congregations are now spending time together, sitting together, and worshiping together.
As Michael Todd puts it, "There's no end to the impact that we can have if the Church comes together in unity…. It will create a different culture."
I believe there's something spiritually significant and powerful when we choose to intentionally come together. These events are an opportunity for us to remain not merely Kingdom-minded, but Kingdom-focused. I believe that we're going to see our local arena fill one day. Not because we bring in a big-name artist, but because there's a genuine desire for the local church of our city to come together and glorify Jesus.
We call it Unite My City because each of us has a personal responsibility to do something to bring the spirit of unity. The first three pillars strengthen the unity of the church. Then the church is ready to get outside of the walls.
Serve
When we come together and hit the streets in unity, our unity becomes missional. We are going to come out in such force and show such power and oneness, that the world around us will take notice. They cannot deny God's love because they're seeing people who once might have been segregated from one another now coming together and serving out of a heart of love and unity. They simply must be a part of it!
Last year, we held our first Serve Day, and 33 churches participated. It was incredible to see the impact the Church can make when we come together as one. We saw churches rally around local schools that desperately needed our help, and the city took notice.
Practically, we as the Church can take on issues together that seem overwhelming alone. We can begin to take things off the plate of the government and capture the world's attention. The church could eliminate the need for foster care, tackle homelessness, or support our low-income schools. Not one church nor one denomination will get credit for it, but Jesus will. That's our whole aim—to create a favorable impression of Jesus Christ in the eyes of the world.
My heart is that people grab this mission and that it reaches a demographic of the church that may not be having this conversation. It is more than a message; I hope it becomes a movement in cities around the world.
—
To learn more about Unite My City, visit unitemycity.tv.
Next Article
Previous Article