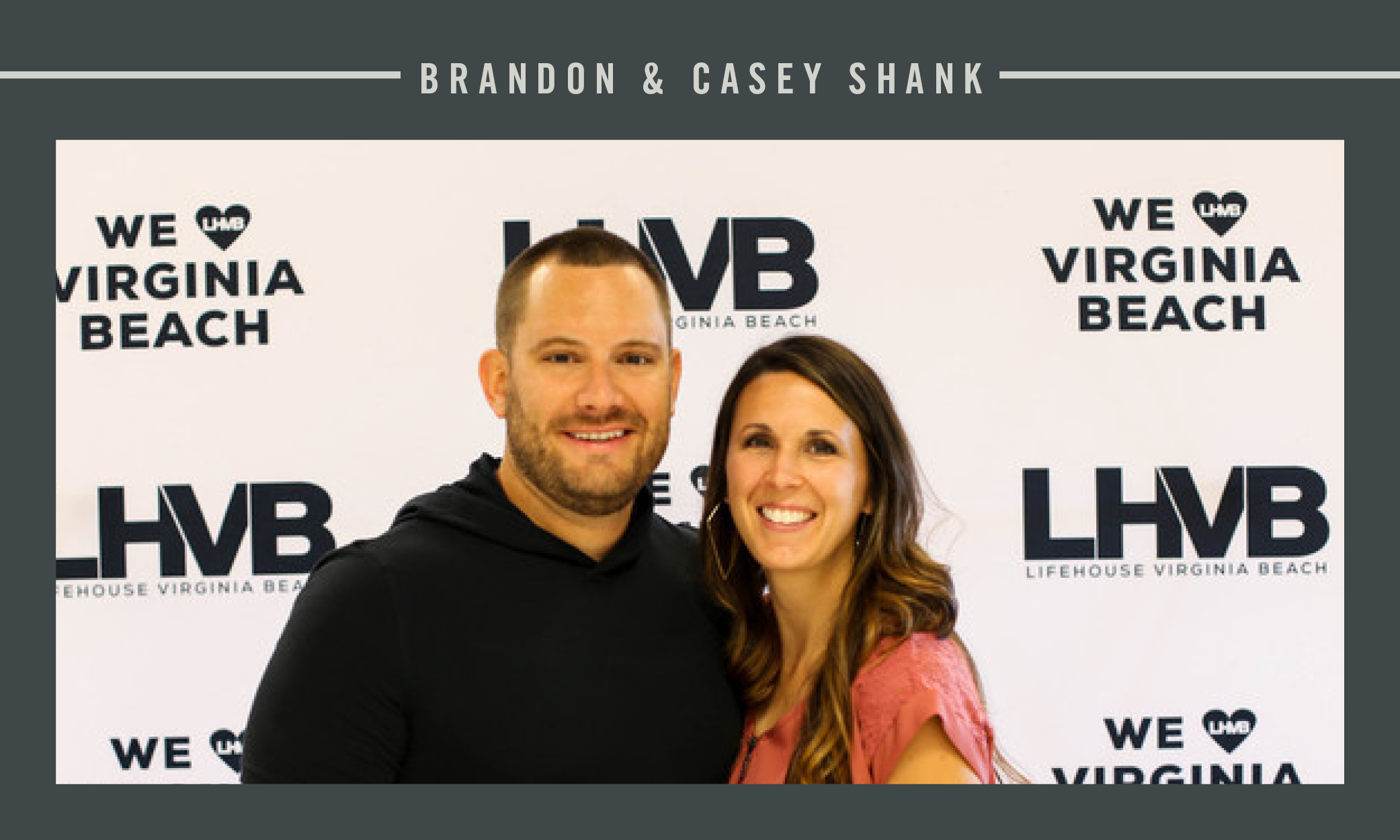 Brandon & Casey Shank
Lifehouse Virginia Beach
Virginia Beach, VA
#436
What motivated you to plant your church in the city that you are in?
We were on a fast, and I told my pastor/mentor that I wasn't going to stop fasting until God told me where to plant the church. My pastor told me, "You'll starve!" But, on day 19, God told me that we were to plant a church in Virginia Beach. This was a shock! We grew up in the Washington, D.C. metro area and assumed we would plant around there. My wife asked me not to talk about it, and two weeks later, God confirmed it through her. It was a cold call, but we are so grateful. We feel like we hit the jackpot!
What do you love about your church and community?
Lifehouse Virginia Beach is authentic – what you see is what you get. It's a community full of people that love one another and can't wait to add more people to the family. We are passionate about getting you locked into what God has for your life and are a community that's built for families and individuals to thrive. Virginia Beach is a unique city with around 35% military, including fighter pilots, Navy SEALs, and other branches of the military. As a city, we are full of young families and retired military. It's an incredible place that knows how to love and come together, as shown by the recent tragedy that took place on May 31st of this year.
What has been one of your greatest moments since planting your church?
One of our greatest moments was when we launched our 2nd campus on January 20, 2019. It was a vision that God gave, and we knew that only He could execute it. We are looking forward to launching our 3rd campus in 2020 and our 4th campus in 2021. I am so proud of our Dream Team and all of our leaders who have taken ownership of this city and are reaching people through Lifehouse Virginia Beach.
What has been one of the toughest moments you've experienced in ministry?
One of the toughest moments was on May 31st when a gunman killed 12 people in our city. When a tragedy like this hits, everyone is affected. The morning after the shooting, our church held a vigil in the parking lot of a Regal Cinema – the location of our 2nd campus. The world was watching, and I've never been so overwhelmed with the responsibility of preaching the Gospel. You wait for these moments, but when they happen, you want someone else to do them. I remember standing in front of 100+ cameras and news stations from all over the world. There were governors, senators, city councilmen and women – hundreds of people in a rainy parking lot. I kept thinking, "God, I know what they need to hear, but I need you to say it." Six families gave their lives to Jesus at that vigil. God gave us the strength to get through that weekend. Our church was full of media that the next day, and I told our church that God had allowed us to show the world the hope that He provides. Nothing prepared me for that moment, but everything was ready because God went before us.
What is the biggest change you've seen in yourself or your church since you planted?
The biggest change I've seen in myself is the ability to accept grace and an acceptance of who I am. I don't strive to be someone else or to pastor what someone else has. I want what God has for me, and I am patient in becoming who He's in the process of creating me to be. I had a moment where I realized that God had never asked me to do this big quickly but to do it well long. I want to be faithful. I've realized that nothing can earn perseverance and faithfulness except for being faithful and persevering.
What do you want to share with someone thinking about becoming a church planter?
The world doesn't need an imitation of someone else – it needs an authentic you. If you know that God has called you to it, then you are what your city needs. Keep your head up, square up your shoulders to the world, and know that you are under the authority of an Almighty God that has never left you and will never forsake you. You have what it takes because you have a God that has appointed you. Get after the assignment, and don't look back. You will want to quit, you will want to fight, you will want to cry, and you will want to quit. Did I already say that? God has gone before you, and there will be a fight against you, but He's already won! Get out there and show the world what God can do with faithfulness and perseverance! We love you!
How has being a part of ARC impacted your life and family?
The ARC gave me hope. We were a part of many networks, had a phenomenal parent church, and have incredible mentors and spiritual fathers as well as men and women who have always believed in us. However, I had a moment with the ARC early on that was a catalyst to believing in what God wanted to do through us. When we were getting ready to become an ARC church, we were in the last interview phase, and we sat down with one of the directors. He said, "ARC loves the Shanks." I'll never forget those words because they've played over many times when I struggled to love the Shanks! That sums up the ARC for me. It gave and continues to give life. Being loved is always a need, and the ARC knows how to love!
Next Article
Previous Article