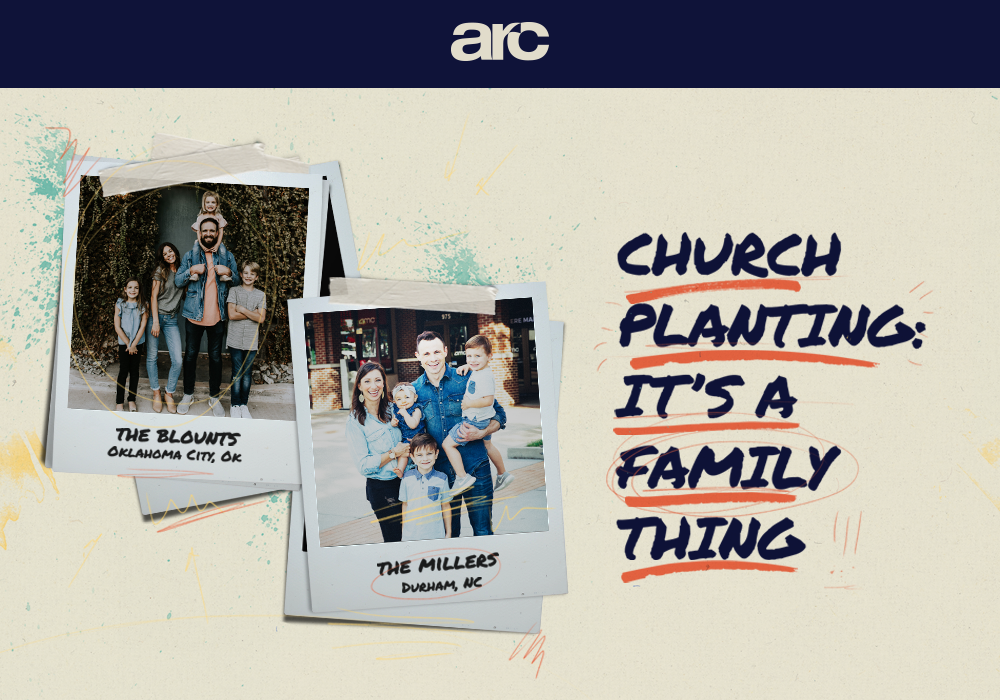 An interview with Sarah Blount and Sharon Hodde Miller
Pastor, spouse, parent—most church planters fill all three roles. You may be thinking, "I want to plant a church, but what effects will church planting have on my kids?" Stepping into the unknown can be scary for adults and children alike. But kids are fearless, flexible, and make friends easily. We all should be more like that!
Your children may not be the ones planting the church, but certainly they are watching. They are watching what you say, how you act, how you handle disappointment, and how you persevere. It's important to establish your vision and purpose for the journey you are beginning as a family. How your children are involved now will make a big difference in how they view the church later. You preach your most important sermon at home.
We interviewed two church-planting mothers to hear their perspectives on launching a church with the entire family.
Josh and Sarah Blount are pastors of New Song Church in Oklahoma City, Oklahoma (ARC church plant number 508). They started their church with a desire to see people come to know God. Sarah also is the founder of HIS, the women's ministry of New Song, and is passionate about helping women discover their God-given purpose. Sarah's first book, Fearless Parenting: Raising Godly Kids in an Ungodly World, will be published in the fall of 2019.
Ike and Sharon Miller are the pastors of Bright City Church in Durham, North Carolina (ARC Church plant number 807). Sharon is the teaching pastor at Bright City Church. She recently completed her doctorate at Trinity Evangelical Divinity School on the topic of women and calling and is passionate about cultivating the gifts of women. Sharon also is an author. Her next book, Nice: Why We Love to Be Liked and How God Calls Us to More, releases during the fall of 2019.
Tell us how your husband and you knew you were called to start a church.
Sarah: About sixteen years ago, my husband told me he was called to pastor a church. At the time he was working for Church On The Move in Tulsa, Oklahoma, as a graphic designer. Fast-forward 11 years, and he was on staff as a children's pastor at Gateway Church in Southlake, Texas.
We spent five wonderful years at Gateway soaking up everything we could from their incredible leadership team, and then we started to feel the tug. It was time to take all that we loved about Gateway and bring it back to our home state of Oklahoma. We told our pastors, and they encouraged us to attend an ARC training. We left that training with a solid plan to follow as we ventured into unknown territory. We moved to Oklahoma City three months later and launched New Song Church in September of 2015.
Sharon: We never wanted to plant; we swore we never would. But one night, around 2 am, my husband sensed God speaking to him. He wanted us to plant a church in Durham, near the Southpoint Mall. It was very clear. We fought the call for months, but the confirmations continued coming. We planted about one year ago in September 2018. It has been a wild and fun adventure.
How did you tell your children you were going to start a church? What did they think?
Sarah: We have three children and at the time they were 6, 4, and 11 months old when we began the planting process. When we put our house in Texas on the market, we told our older kids that we were moving to Oklahoma to start a brand-new church. I don't think it sank in until we started hosting interest meetings. They were excited because we were excited. They were all in because we were all in!
They have loved the local church since they were tiny, so I think it made sense to them. It felt natural and organic.
Sharon: My boys were in preschool, and I was pregnant with our little girl when we first discovered we were called to plant a church. I don't think they really understood. I still don't think they do. A part of me wants to sit down and explain to them that not everyone's parents start a church.
They love it. They have always been pastor's kids so it's normal to them. They are very extroverted and love people. It's the perfect combination for them to make friends.
What did you do to build a new community for your kids and you?
Sarah: Our kindergartener had to change schools in the middle of the year, but he didn't skip a beat. We prayed that God's grace would be enough for all our kids as we transitioned, and it was. We started our interest meetings two months after moving. We attracted several families with kids the same ages as ours, so we went on lots of play dates. I became friends with moms who then became vital part of what we were building, and our kids made new friends. I was very intentional about being at my children's elementary school. Every year I sign up to be classroom mom so I can get to know the families and teachers.
How did your kids get involved in the church planting process?
Sarah: They were at every interest meeting. They tagged along every time we took a new launch team recruit to coffee or dinner. They shared their toys with the launch team kids when we had meetings at our house. They helped canvas neighborhoods with door hangers. My oldest son invited his whole class to our first service. His teacher came and has been coming ever since. Another family in his class attended that first week, and now they are some of our key leaders and closest friends. The kids love inviting friends!
Sharon: Leading up to the launch we stood outside the local movie theater and gave away sunglasses. Our boys had so much fun doing this. It also worked well with the community because kids are a natural ice breaker. Our kids are a bridge connecting us to other people.
How did you practically make time for your spouse, kids, and family?
Sarah: We determined that Fridays are family days. Josh and I go on a date every Friday while the kids are in school. After school we have "Friday family fun night." We don't check e-mails on Fridays, and our team knows not to text us. We disconnect from all-things church related.
We also budget for vacations, and even in the first years of church planting, we would go on an annual family trip. We never let the church take precedence over our family. We never miss a Sabbath.
Sharon: We have become ruthless about Sabbath. We carve out a family day every week when we spend time together, and we do not talk about the church. We also create boundaries during the evenings. Unless one of us has a meeting, we are off our phones. Once work hours come to an end, we don't respond to e-mails or talk about what's going on with the church. It helps us to be present with our kids, but it also ensures that our hearts and minds have space to rest.
We also have a marriage counselor with whom we have been meeting for nearly ten years. This is one of the best things we have ever done for our marriage. It has helped us to navigate planting a church together.
What does church life look like for your family now?
Sarah: Although we have doubled church attendance each year and are running three services, the pace is slower for us now than it was in the early years. We have a fantastic staff and the best volunteers! Ministry takes place throughout the week, but we can be at our daughter's softball game, even when a discipleship class is happening, because we have the right leaders in place. The kids usually attend two services on Sunday, and then the older two serve in the nursery during the third service. They love it! Their closest friends are at the church.
What advice would you give a soon-to-be church planter or a young church planter about preparing their family for the planting process and church life?
Sarah: Raise leaders and delegate ministry responsibility to those you trust, so that the life of your church doesn't rest solely on your shoulders. If it's all on you, your children are going to see you struggle to carry that burden, and they'll resent the church. Don't believe the lie that church planters can't take a day off or enjoy a vacation. Trust that while you are investing in what matters most—your family—God is building the church.
Sharon: Ike and I do not believe we have to sacrifice our family for church planting. We serve a God of abundance who took a fish and some bread and multiplied it to feed five thousand. That gives us a lot of freedom to ask, "What does my family need to thrive? And what boundaries and rhythms do these needs require?" We can ask those questions confidently, without fear that we are giving God too little for the task before us. With that freedom, create your boundaries, determine what Sabbath will look like for your family, and structure the rest of your week around those margins as best you can. Then surrender it all to God.
—
Article originally published in the Sept. 2019 ARC Magazine vol. 4 iss. 2. 
 
To learn more about Sarah Blount, and for information about her upcoming book, visit sarahblount.com.
 
To learn more about Sharon Hodde Miller and her new book, visit sheworships.com.
Next Article
Previous Article