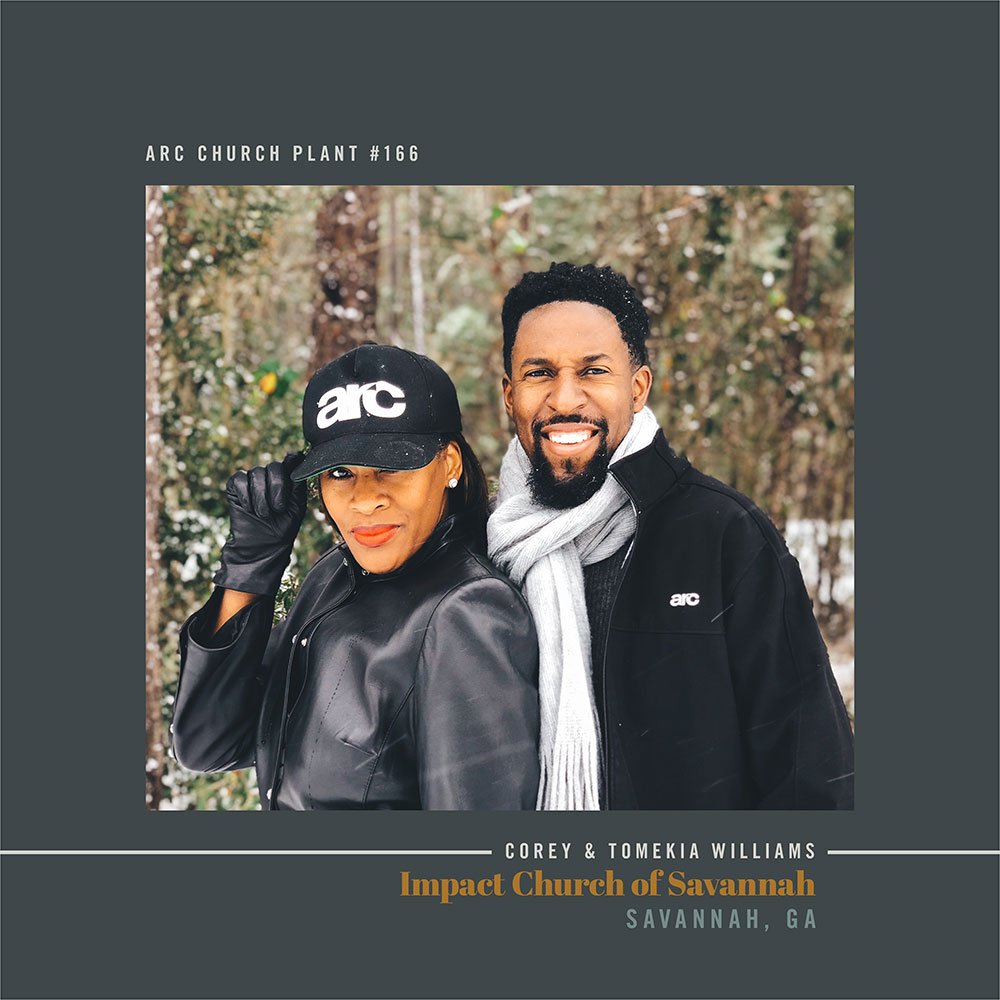 What motivated you to plant your church in Savannah?
Savannah is a growing city, and Tomekia and I quickly discovered there was no life-giving church model that reflected the vision and culture we wanted to bring here.
What do you love about your church and community?
Savannah is a beautiful city with so much history and an amazing warmth of Southern hospitality. As a military town there are many transient people here, and we love that many locals find Impact Church to be either a breath of fresh air from previous church searches or a reminder of a life-giving church they attended in a former city or state. I love how many people embrace our church's Know God, Find Freedom, Discover Your Purpose, and Make a Difference model, whether they are accepting Christ for the first time or have been unchurched for some time.
What has been one of your greatest moments since planting your church?
Seeing our church grow from a handful of people to more than 500 regular attendees on the weekend during the past five years is one of our greatest moments. Also, it is exciting to watch people mature in their faith and develop a hunger for the truth of God's word—not because of a religious mandate, but because they are growing a personal relationship with God. Then, seeing the effect of such faith in their relationships, spiritual growth, and dreams and visions … it is amazing to watch so many people walk in purpose.
What has been one of the toughest moments you've experienced in ministry?
Leadership, especially from those who would do what I am doing a different way has been difficult at times. It has been a challenge to be faithful to the culture God has called Tomekia and me to create without offending those who want us to go a route they loved somewhere else. In our first couple of years, we would adjust to appease people and try to make them stay, only to find they eventually leave. Now we are committed to build the culture and model that we sense God is calling us to so that we can help those far away from God come home to Him.
What is the biggest change you've seen in your church since you planted?
During the past 12 months we have seen a major increase in racial diversity. Watching our church become more than a black church, but a church that attracts people from all races and ethnicities is amazing.
What do you want to share with someone thinking about becoming a church planter?
Don't do it alone. Don't reinvent the wheel. Be teachable and be open. Submit your vision to someone you trust, like ARC. Scripture says there is safety in the multitude of counsel.
How has being a part of ARC impacted your life and family?
The relationships are priceless. We would not be where we are without the support of ARC. We are emotionally and spiritually strong because of their wisdom and guidance. ARC is like a big family to whom you can tell your flaws, and they will be right there to help you walk through it all.
Next Article
Previous Article