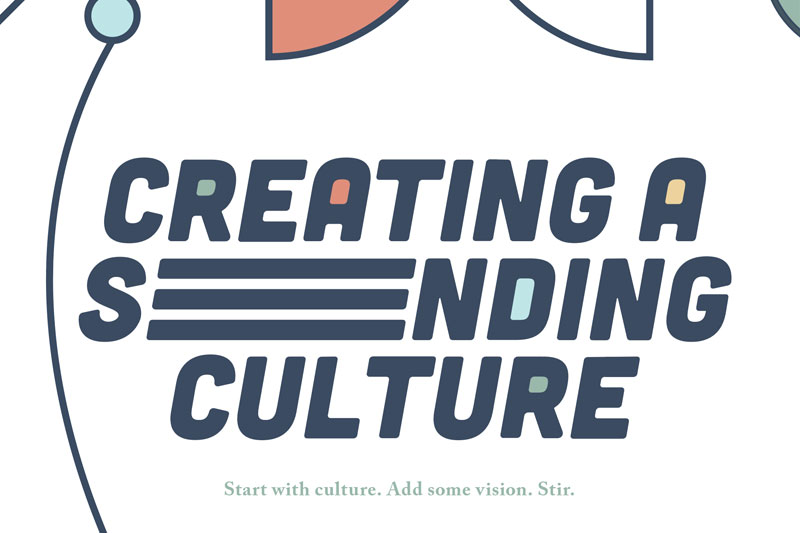 It seems like we really didn't have a choice. We weren't even considered in the conversation. In fact, it wasn't a conversation at all. It was a short monologue, a soliloquy, the central ideas of which are located in all four Gospels and Acts. Most call it a commission, the "Great Commission" to be precise. We're taught to go make disciples all over the planet (Matthew and Mark) and preach the gospel to every people group (Luke). We're told that we're sent just like the Father sent Him (John) and that we have power to take this message to the ends of the earth (Acts). The commission isn't "gather and keep." It's "train and send."
After hearing the command to go, the first New Testament church effectively sat on its hands. The gospel remained locked up in and around Jerusalem for three years after Jesus's resurrection, until a persecution broke out led by a Pharisee named Saul (later to become the Apostle Paul). Even then, the church's leaders, the apostles, remained home while the church members scattered and took the gospel with them, preaching it as they went. The result? A church was planted in Antioch, seemingly by accident, among the Gentiles, and the gospel began its trek to the ends of the earth. (It's interesting that Paul, before he was a believer, did more to spread the gospel among the peoples of the earth than all the apostles in Jerusalem put together.)
Before long the church in Antioch became the key church on the planet although it had no superstars, none of the men Jesus had personally discipled. It was a collection of "no names." During these years, the church in Jerusalem sank slowly into legalism while the Holy Spirit called the church in Antioch to send its two best men, Barnabas and Paul, to go and plant churches. "They laid their hands on them and sent them off" (Acts 13:3 ESV). (Remember, not "gather and keep," but "train and send.")
To be fair, by Acts 21 the original 11 apostles had departed Jerusalem on church planting expeditions of their own. History records that each of them, except John, died a martyr's death!
The struggles of the early church have been repeated throughout church history. It seems we Christians are habitually reluctant to reach beyond our comfort zones, to risk potential conflict and loss in stretching the boundaries of Christianity. (Read the classic article by Ralph D. Winter, "The Kingdom Strikes Back: The Ten Epochs of Redemptive History" in Perspectives on the World Christian Movement.)
This is why I love the ARC. ARC is a family of churches given to the study and practice of church planting with a common passion to multiply churches. And the success rate is phenomenal!
It's not enough to plant a few churches and go back to "church as usual," as if church planting was an addendum to the call of God. The New Testament church existed to plant other churches; replication was part of its DNA. Paul traveled to key cities and planted churches, and their missions were to plant other churches that, in turn, would plant other churches. The goal then was church multiplication, and church multiplication is still the goal today. We must elevate our thinking from "addition" to "multiplication," and to do so we need three ingredients: Start with culture, add some vision, and stir.
Start with a send culture 
There's truth to the expression, "culture trumps vision," and it seems reasonable that we must go beyond a "send vision" and develop a "send culture." A culture is more than a belief system or set of shared ideals; it's how people behave, how they act, what they do, and what they consider normal. Culture is not merely part of your DNA; it is your DNA. It's what you think church ought to be. If church planting is done in the dark or viewed as a line item in the budget, then it isn't part of your church's culture.
A send culture includes three foundational ideas:
01. Every believer is already sent. How many people read the fine print when they signed up for an Amazon account? I don't know anyone who plowed through this minutia, no matter how important. Instead, most people scrolled to the bottom of the page and clicked the all-important "I agree" box so they could start shopping.
The same thing happened when we were born again. Before the altar call, we didn't grab a Bible to read the New Testament and consider everything we were getting into before committing our lives to Christ. Instead, most people thrust their hands in the air to say "I agree" because they couldn't wait to find the one true pathway to everlasting forgiveness. We figured we'd get a handle on the fine print later.
Make no mistake; there is fine print, and lots of it. Die to self. Walk by faith, not by sight. Serve others ahead of yourself, and so on. And don't forget this one: As soon as you signed up, you were sent. Everyone has a calling from God. Everyone has a place on the team. Everyone is loaded with gifts. Everyone is sent. The main ingredient in a send culture is for every believer to recognize and embrace the reality that he has already been sent.
02. Every church is called and created to plant other churches. Disciples are made in the context of community (the local church), so to make disciples all over the world, we must plant churches all over the world. Not every church may be led by a pastor with an apostolic calling, but every church is birthed with an apostolic seed at its core. This is not optional, so it should be a visible part of who we are as a church, as much as worship, small groups, and Easter and Christmas are.
03. Multiplying churches requires that every church plants other churches, which plant churches. Adding is good, but multiplying is better. The early church; the church that arose during times of historical revivals; and the modern day churches in China, Nepal, the Middle East, Africa, and parts of South America are all multiplying. The secular media recently reported that the fastest growing church in the world is an underground, persecuted Christian movement led mostly by women in a country known for exporting terrorism—Iran.
My prayer is simply, "Lord, if then, why not now? If there, why not here?" While it can happen here and now, we must trade our addition mindset for a multiplication approach. We learned this in third grade. Multiplication happens when all the additions add—when every church plants multiple churches that plant multiple churches. This is where vision enters.
Add some vision
Culture is who we are. Vision is a picture of a preferred future; it is what we are going to do. Our vision should give legs to our culture. Vision requires action, and if it is compelling enough, it mobilizes people. But we must move from a posture of "we'd like to include you in this" to one that announces "we can't do this without you."
To accomplish this, we must build a compelling vision that scares us and feels overwhelming, one that will not succeed without God's direction and involvement. I'm speaking of an ambitious church multiplication vision that spans throughout the valley, touches every city in the state, or reaches every college campus in the country.
We are located near Fort Bragg, the largest United States military base. Our constituency is 70 percent military, so our vision is to plant a version of Manna Church near every US military base in the world—all 273 of them. This vision can't be accomplished as another church program; it will take the entire church to achieve it.
Stir
Below are a handful of ideas about how to feed a send culture.
We become what we celebrate. Tell church planting stories. Include video from churches you have planted and celebrate what is happening there. Talk about potential church plant locations. Reference your former plants and the things they are doing to change the world in their community.
Send your best. Eagles don't flock, and if your "eagles" can't rise to their potential, they may leave. Sadly, they may leave our family of believers in addition to your church. Don't let them leave! Instead, send them. Get behind them and provide resources. Send others with them and be their biggest fan. Build a family of churches that becomes a band of brothers, all conspiring to not only plant but also multiply churches.
Train leaders who will be part of your church planting strategy. I lead a group of about 35 leaders who fall into three groups: potential planters, potential staff who will replace the planters, and staff to send with the planters. Make sure your most committed, gifted visionaries are involved. It's the best hour of my work week!
We can do this. We must do this. And we don't really have a choice because we already have been sent.
—
Michael Fletcher and his wife Laura have served as the senior pastors of Manna Church for more than 30 years. In that time, the church has grown from 350 to more than 9,000 members. Manna Church is one church with many locations. The Fletchers' church has worked to create a culture that advances the Kingdom of God across the street and around the globe (actively engaged in 63 countries). Michael's heart is to see God's people equipped to change the world and to plant churches with the same world-changing vision. Manna has helped to plant more than 100 churches to-date and is currently planting a version of Manna Church near every US military base in the world.
 Michael has authored several books and most recently, Empowering Leadership: How a Leadership Development Culture Builds Leaders Faster. To learn more, visit michaelfletcher.tv.
Next Article
Previous Article