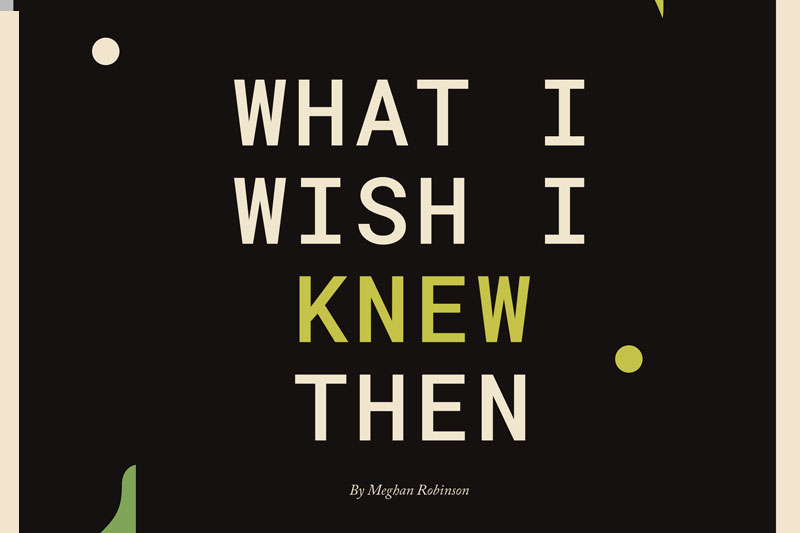 This year I grew up. I've been an adult for a while, but this year it seemed adulthood became even more official because I turned 40. My thirties were amazing, but in so many ways I felt younger than I was. Then 40 came knocking on my door, and I found myself at a doctor's appointment required for 40-plus-year-old women. That's when I realized: This is it—I'm a grown up! Can any of you relate? One thing I am sure of is this: The older I get, the less I know!
Leading up to my birthday, I decided to capture some of the lessons I've learned in these forty years. I certainly have not arrived and have so much more to learn, but I wanted to share a few of the things I know now that I wish I knew then. Hindsight is always 20-20, so perhaps the lessons I can relay from 20 years of ministry—the serving, leading, pain, and process—may be a tipping point for you.
Passion talks while wisdom and experience listen
My husband and I launched into full-time ministry in our early 20s. I was young, passionate, determined, and ready to change the world. We were youth pastors of a large youth ministry at a megachurch, leading a team of people, most of whom were older than we. I had ideas for everything, and I was pretty convinced my ideas were brilliant. I am grateful for pastors and leaders in my life who saw the fullness of my potential and were patient and empowering.
As I look back on those years, I've learned that passion talks while wisdom and experience listen. I am still passionate about changing the world, but my passion has been tempered with patience. If I could advise my twenty-something-year-old self, I would encourage her to listen more and speak less. I would challenge her to ask questions more than share ideas.
If you are a young leader starting in ministry, we need your ideas and innovative spirit. Your passion and excitement propel us forward, and you need the wisdom of those a few steps ahead in the journey. Don't dismiss their experience. Even while writing this, I know many of you will nod in compliant agreement but run full steam ahead in your heart. I understand because I did that too, but now looking back, I realize I missed some moments of peace and contentment, made foolish leadership decisions, and caused unnecessary pain in my well-intentioned, passionate pursuit of what I thought should be next.
God positions, God promotes, and God keeps His promises
God positions. Have you ever thought you should be further along than you are? I imagine we all do in different seasons of life and ministry. Whether you are a senior leader or a crucial member of a team, most likely you struggle with position. Pride thinks, "I should be further along," and insecurity says, "I don't belong." Both are slippery slopes. God has you right where you are for a specific purpose. Don't miss the moment because of pride or insecurity. Open your eyes to the people around you. Be eager to learn, be humble in relationships, be content with your current story, and be faithful with what is in your hands!
God promotes. We live in a world that is all about self-promotion. Leaders in every arena of life constantly are scrambling for the next best position. With every post on social media or every story shared, some yell: "Look at me, like me, and see how great I am." Others strive and work overtime to achieve and be noticed through what they can do and how they perform. This drive, however, creates an insatiable desire for the next best thing. Remember, God has you in the right place at the right time. Give your best because God is watching, not because others are applauding. Check your heart and your motives. The Bible says, "Let others praise you and not your own mouth." Share a proud moment, but don't let a proud moment become a pride moment.
God keeps His promises. Psalm 55 tells us that our God has unchanging faithfulness. You can trust that all His promises and plans for you will be brought to fruition. His timing is perfect. A wise person once told me: "God is never late, and he is never early. He is always right on time." I hated hearing that! While we would all love to forgo the process and get to the promise, it doesn't work that way. Remember that God is working in your waiting, and He is the author and fulfiller of all His promises.
Slower is better
I dislike the expression, "slow and steady wins the race." I'm a "what's next" kind of girl who is always ready to hit the target and move on to the next one. Church planting has challenged me to the core. It has been an infinitely slower process than I ever imagined. Although I was taught not to despise the days of small beginnings, I continued to nod my head and race on in my heart, only to be met with the discouragement of unmet expectations.
I work out in a class called Barre3. The instructors consistently remind us that the slower we go, the stronger we become. When exercising, very slow, isolated movement strengthens your core more than heavy weights or quick repetitions. The same applies to your vision for your church or ministry. Slow, focused, intentional movement will produce greater results and less possibility of injury. Far too many leaders start moving too quickly, and we watch them stumble and fall. Slower is better. You may not see the results as quickly, but over time you are developing a solid, immovable, and firm foundation. Don't be discouraged if your movement seems gradual. Keep the vision alive. Your church will thank you, your family will thank you, and you will thank you!
Tomorrow is only a day away
The pressure of ministry is real. There is never a shortage of crises or problems. Some may be operational, some personal, and many exist in the lives of the people we are privileged to lead. There are seasons in the life of our church when it seems like everyone I know is walking through challenges. Every day we see struggle and pain. It can be overwhelming.
Part of the role of pastoring people is helping them navigate life. Your responsibility has never been to save someone. Jesus is the Savior, and your job is to point people to Him. There are always problems that people are facing today, so there are some crises that can wait until tomorrow. You do not have to respond to everything now. The weight of the world is not on your shoulders; it is on God's.
If your family or you are struggling and you constantly feel the pull to fix others and sacrifice yourself, you may have a savior complex. Perhaps helping others has replaced the necessary work of helping yourself. Let the Holy Spirit lead you. Some problems need your attention now and others can wait until tomorrow. People will come and go from your ministry and your church, but your spouse and your children are there to stay. Take time to rest and remember that tomorrow is only a day away.
Ministry is not weight training 
I used to think that ministry was like weight training and every pressing problem counted as lifting another five to 10 pounds. I was convinced that the more I learned to carry, the stronger I would become. When I finally hit a moment when my knees began buckling under the pressure, I felt the Holy Spirit remind me that ministry is not about how much you can carry but how much you can lay down.
1 Peter 5:7 (AMP) says: "Cast all your cares (all your anxieties, all your worries, and all your concerns, once and for all) on Him, for he cares about you (with deepest affection and watches over you very carefully)."
Ministry is not weight training; it's marathon running. To run this race we must throw off the weight that so easily pulls us down. This is God's church, these are His people, and He is in control of every detail of your life and mine. Could you practice what you preach and stop picking up weight that was never yours to carry? Trust Jesus and keep running. We need you in the race, and I'm cheering you on!
—
Meghan Robinson is a dynamic and authentic communicator with Texas roots and a California heart. Meghan and her husband Carey pastor The Movement Church in Orange County, California (ARC church plant number 273). They have been in ministry for the past 20 years as youth pastors, associate pastors, and now senior pastors. Meghan is a wife, mom to two beautiful girls, church planter, and author of the devotional, Hey Babe. To learn more about The Movement Church or to order your copy of Hey Babe, visit theocmovement.com.
Next Article
Previous Article