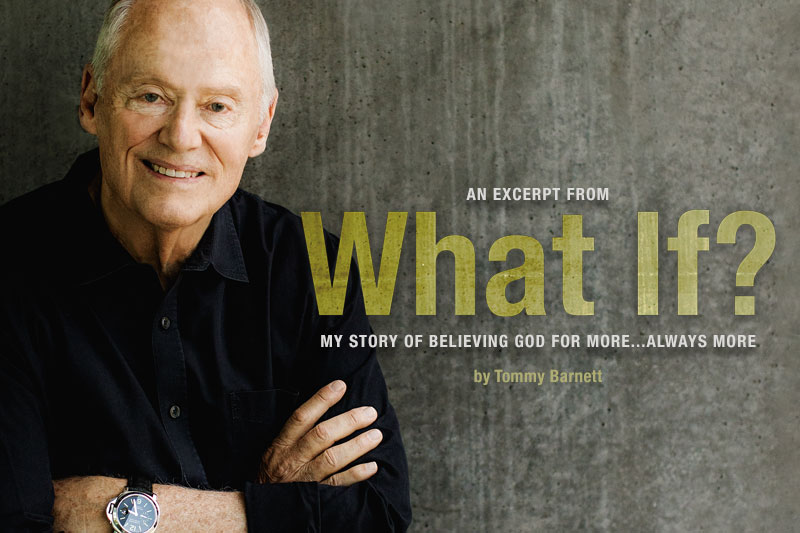 As I stood on a high platform in Bangalore, India, I looked over a sea of humanity like nothing I'd ever seen before. As far as I could see, the crowd of over 400,000 people extended into the night. They had come to hear the gospel of Jesus.
Ten years earlier, Joyce Meyer had asked me to be her pastor. When she scheduled her crusade in Bangalore, she invited me to join her and her husband Dave, and she gave me the honor of speaking on one of the nights.
As I stood next to her on the platform, my mind drifted back to my uncle Ted Vassar, who as a young man 100 years before had come to India with his wife to build an orphanage in Pune, a city in the western part of the country. When I was a boy, I loved to hear him tell stories of his adventures in his adopted country. He talked about a boy who had been attacked by a leopard. Uncle Ted heard the screams, grabbed his rifle, and ran to help. The leopard had the boy's leg in its mouth when Uncle Ted shot and killed it. The doctors looked at the mangled leg and planned to amputate, but Uncle Ted and others prayed all night before the operation, and by the next morning, the leg was better and was saved. The boy saw this miracle from God, and his faith was enflamed. He grew up to lead a great revival in Nagaland, India.
My uncle's years at the orphanage were full of joy and tragedy. They reached many children living in poverty and on the streets. On some mornings, he found children who had been left on the doorstep overnight. But two of his own children were buried there. One died in childbirth and the other at thirteen with a ruptured appendix. Both could have been saved if they'd had proper medical attention, but there were no hospitals in the area.
On the platform that night in Bangalore, I turned to Joyce and told her about my missionary uncle who, 100 years earlier, had sown seeds of the gospel that we were joyfully reaping. I said, "Joyce, I wish my Uncle Ted could see this sight. I'm sure he couldn't have fathomed this kind of harvest!"
"In every city, I imagine what it would mean to those people to have a gospel-preaching church that cares for their needs."
That night, I preached with a blend of passion and joy. At the end, tens of thousands of people raised their hands to indicate they had trusted in Jesus.
I wasn't alone on my trip to Bangalore. Dino Rizzo was with me. During the day, Dino and I taught 20,000 pastors how to follow up with those who had trusted Christ and grow their churches. As I always do when I travel to cities around the world, I opened the window of my hotel room and looked over the sprawling city. I scanned the new office buildings and the slums, the parks and the streets packed with people—mostly people who didn't know Jesus. In every city, I imagine what it would mean to those people to have a gospel-preaching church that cares for their needs.
One night, Dino and I stayed up long past midnight talking about God's heart for the disadvantaged…in Bangalore and in the cities of America where we served. Dino knew my heart is always for the lost to come to faith, but both of us sensed that God wanted us to provide resources—tangible, specific resources that could save or change lives—for people who were overlooked by society. We looked at passages of Scripture, imagined what God might do through our churches, and encouraged each other to "excel still more." It was a wonderful conversation, one I'll always remember. It wouldn't be
our last.
At the time, the Dream Center was just taking shape in Phoenix. We were taking our first steps to create permanent structures that would be a lifeline to the poor, alcoholics and addicts, the sick, the lonely, the immigrants, the outcasts, the victims of human trafficking, and the depressed—the kind of people who were, more than anyone else, the recipients of
Jesus' compassion.
Throughout my life, I've sensed God's clear call to find a need and fill it, to find a hurt and heal it. Do people need the life-changing message of the gospel of grace? More than anything else. Do they need to see God's people, His body, extend their hands to offer genuine help, their feet to meet them where they are, and their hearts to break with theirs? In many cases, receiving tangible expressions of love is the only way they will open their hearts to the message of Jesus.
Now, as I near the end of my ministry journey, I look back at the incredible things God has done, and I'm deeply grateful. I've only pastored two churches, but as I've preached in cities all over the world, God has consistently impressed me with the dream that I'd one day start a church there. These churches, He assured me, would reach the people I've always been able to reach: the ones nobody
else wanted.
Has God fulfilled this vision? Yes, in a big way!
This impact has been one of the greatest blessings of my life, and to be honest, a big surprise. Over many decades, God has used me in ways I could never have imagined when I started. Through it all, I've tried to be a tool in the hands of God. Availability is the first step toward usefulness.
Do you ever wonder what He wants to do through you?
"One thing is for sure: Until the Lord returns, we'll never run out of needs to fill and hurts to heal."
Of course, you do. That's why I'm writing this book. If God can use a skinny little kid from the oil fields of Texas to build His kingdom, He can certainly use you. I would be nothing without the influence of great godly men and women who have poured so much wisdom into me and the power of the Holy Spirit who has enabled me to do things way beyond my wildest dreams.
One thing is for sure: Until the Lord returns, we'll never run out of needs to fill and hurts to heal. The question isn't one of their need but of our care. Where does compassion come from? We love because we've experienced the tender love of Jesus, we forgive because we're amazed that He has cleansed us from all sin by His sacrifice on the cross, and we accept those who aren't like us because God in Christ accepted us when we were nothing like Him. In everything we do, we go back to the cross of Jesus.
Throughout my life, God has continually prodded and prompted me to ask, "What if?"
What if I started preaching? Would anyone come to hear me? Would God use me to touch people's hearts with the gospel? What if I buy a huge tent? Will it be empty, or will God fill it? What if I answer God's call to a small church in Iowa? Will God bless us there? What if I buy a fleet of buses and bring people from miles away to worship with us? Will people come or will those buses become monuments to a failed dream? What if I go to a church where I really don't want to go? Can that possibly be His leading? What if we build a huge building? Will people come, or will there be only echoes? What if God tells me I'll pastor a historic church in Los Angeles? What if God puts it on our hearts to create a place where people who have lost hope can renew their dreams? What if God multiplies those places of healing all over the world? What if the recurring impression to plant churches in every city where I travel is fulfilled by training hundreds of thousands of pastors to experience God's power and blessing in ministry? What if we take bold steps through the door of opportunity that God opens in front of us?
Through all these years, "What if?" has been quickly followed by "Why not?" and then "Wow! God is doing
amazing things."
This book contains my story, but as you'll see, it's much more than that. It's actually God's story of moving in the hearts and minds of people in our city, across our country, and around the world. Throughout my life, God has given me a clear sense of purpose. He has continually inspired me to dream bigger, reach higher, and trust Him for far more that I could imagine. On every page, I hope you recognize the amazing love in God's heart and His kindness to use someone like me to tell people about the grace I've found—and they can find—in Jesus Christ.
—
To purchase, "What If?" visit tommybarnett.com.
Tommy Barnett is the Global Pastor of Dream City Church in Phoenix, Arizona, Founder of the LA Dream Center, as well as the Chancellor of Southeastern University in Lakeland, Florida, and the former Chancellor of Grand Canyon University in Phoenix. He began his ministry as an evangelist when he was sixteen. Later, he became the Pastor of Westside Assembly of God in Davenport, Iowa, before becoming the Pastor of Phoenix First Assembly, now Dream City Church.
Next Article
Previous Article