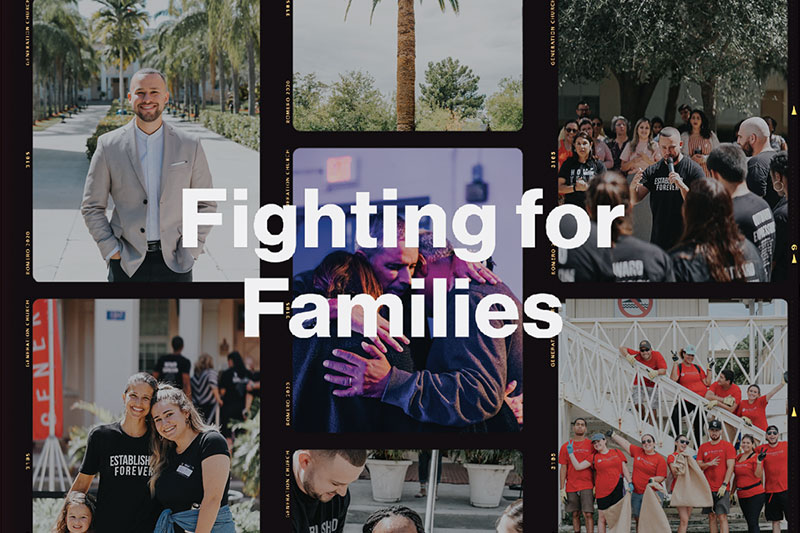 by Lindsey Hansen with Rich and Tina Romero
Rich and Tina Romero were both born and raised in Miami, Florida. They met as teenagers in church youth group and became high school sweethearts. They served together at church and at an early age began to feel God call them to full-time ministry.
After high school, Rich moved to Columbus, Ohio, and attended World Harvest Bible College. His vision at the time was to work with youth and sports. After college, he served as a youth pastor at a new church plant in Miami—his first ministry job, although technically he wasn't paid. Soon Tina and he were married, and Tina received her degree in education. The couple was happy to be working with students and had plans to develop a sports outreach program in the community.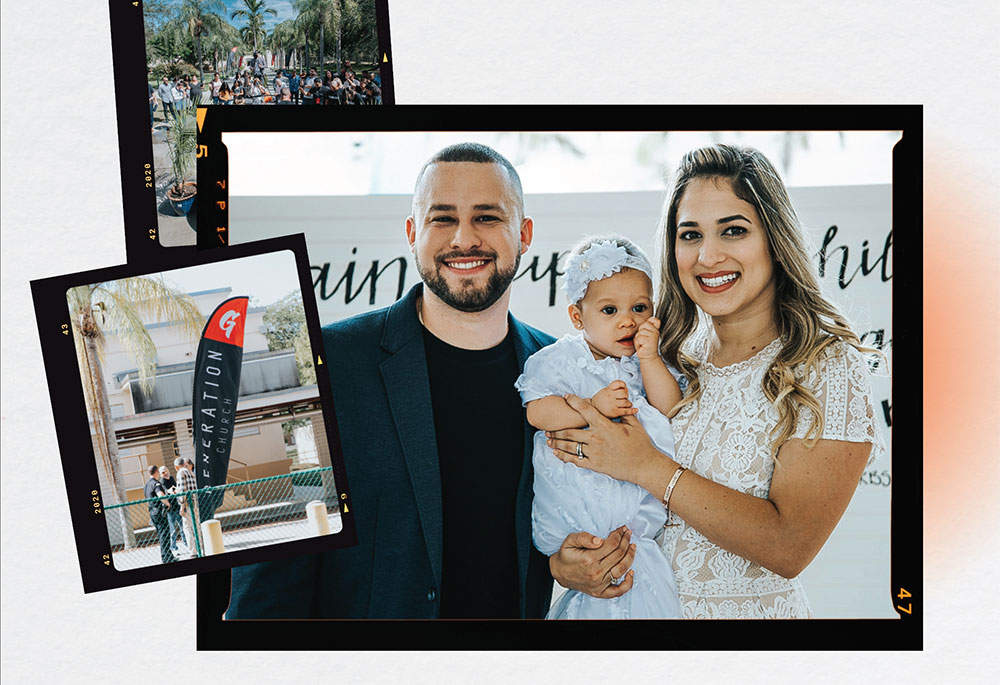 After a few years Rich and Tina were offered a full-time position at their home church, where they first met. This church is very diverse, with many Hispanic cultures and Spanish-speaking people represented. Rich and Tina both have Cuban heritage, and they began to serve as youth pastors and develop the English-speaking ministry at that church.
After a few years on staff, God began to stir a desire within the Romeros to start their own church. Rich recalls, "It was during this time that God gave me the vision to plant a life-giving church in our city."
Planting a church was never previously on their radar, and Tina said her first honest reaction was to resist. "I had put God in a box and had a plan for what I was supposed to do," she says. "I had to allow God to work in my life and give me a new vision."
In 2016 the couple began to discuss with their pastors the dream of planting a church and spent a year praying about it. "That year was full of a lot of prayer, fasting, and ensuring we were hearing the voice of God and not just us," Rich says.
"In order to do a great work, we've got to do it together."
God confirmed the vision in their hearts, and the Romeros knew they were called to start a church in Miami. "Miami is a major city, but there aren't a lot of life-giving churches," Rich explains. When the Romeros began praying about starting a church in Miami, there was only one other ARC church plant in the area. "It is a melting pot. We're from a part of Miami that is very Hispanic, and everyone speaks to you in Spanish." Hispanic or Latino (of any race) make up 70% of Miami's population.
"Miami is also very driven by materialism," Rich adds. "Make sure your car looks good, your Instagram looks good, your clothes look good, and you'll fit in. There's a lot of drug abuse. There's a very high rate of divorce. And, because of the strong Hispanic culture, there's a lot of Catholicism. We felt the need in our city, so it was a no-brainer for us,"
Josh Cossey, whom Rich first met while he was in Bible school, was one strong early influencer in the Romeros' church planting experience. Josh and Tiffany Cossey planted Faith Church in 2011 in Oklahoma City (ARC church plant number 186). Josh introduced the Romeros to ARC, and they began ARC Launch Training.
ARC Launch Training includes an online training platform where couples can work through courses together at their own pace. ARC Launch Intensive is three days of focused training, where couples are paired with a Launch Coach to offer counsel and advice through launch day and beyond.
Rich says, "When we went to the intensive, we didn't know what the process would look like. We knew we had a big dream and a big vision, but didn't know where to begin. How many people do we need to get started? How much money do we need to raise? Where are we going to have church? ARC helped us dial in those details," he explains.
After Rich and Tina attended the ARC Launch Intensive, they felt confident that they could accomplish their vision. "We were blessed because we were planting a church in our hometown," Rich says. "We had resources and a network here. We're Hispanic, so half of our launch team was our family!"
They set out to recruit 100 people to their Launch Team raise $200,000 to start their church. "We had aunts, cousins, friends, and friends of friends start coming to our launch vision nights," Rich recalls. "We had a lot of launch parties, rented out a lot of restaurants, fed everybody, and started casting vision."
"Whatever we have, we're going to hand it down to whoever needs it."
Tina adds, "ARC encouraged us during our planting process, to reach out to the other pastors in the area. This has created an environment of comradery amongst local pastors. We now have friendships with one another. We talk about things together, and we plan serve days together."
Ministry in Miami wasn't always so collaborative. Rich says, "It's refreshing to see the next generation of pastors who get it. In order to do a great work, we've got to do it together." Today, there are six ARC church plants within the Miami area, plus more ARC Family churches.
The Romeros continue to foster those relationships with new and existing churches throughout the city. "From day one we said that we're going to be the most generous church in our city," Rich says. "Whatever we have, we're going to hand it down to whoever needs it."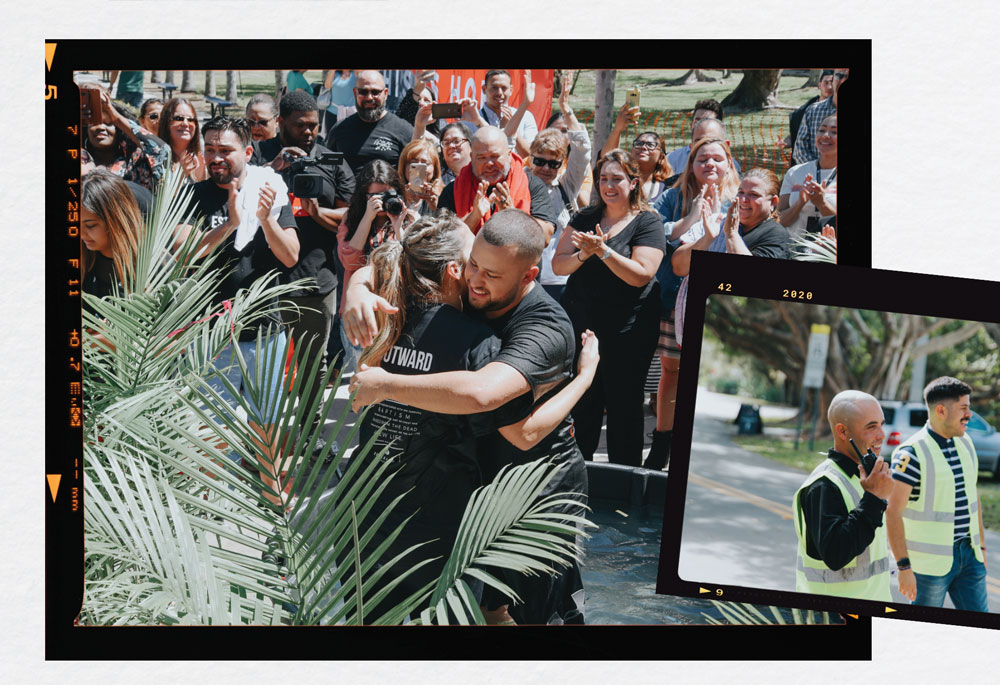 Throughout the entire launch process, the Romeros felt the favor of God. They were able to recruit a team, build relationships within the city, raise money, secure a venue. "One of the horror stories I hear from other church planters is about how difficult it is to lock in a venue," Rich says. "We were looking at two schools that were our dream venues. We contacted both, and one responded within a week and a half. After our first meeting with that principal, God graced us, and we got a 'yes.'"
The Romeros' church meets directly across from the University of Miami in Coral Gables, Florida. It's a prime location that allows them to attract people of all ages. "The type of church we're trying to build is very different than anything our city has ever been exposed to," says Rich. "We are a very family-oriented church. That's why we named it Generation Church."
Rich and Tina both grew up in broken homes with parents who battled addiction. They wanted Generation Church to be a church that fights for families. "If we are going to plant a church, this is why we're going to do it," Rich explains. "We're going to reach the lost, expand the Kingdom, fight divorce head-on, and help keep families together."
Rich explains that the life-giving approach and the simple tools ARC provided made what seemed impossible, possible. "Honestly, I don't know where we would be without ARC. ARC surrounded us with the right people and was the key to our success."
Rich and Tina, with their then three-month-old baby girl, and their team, launched Generation Church on January 21, 2018 (ARC church plant number 744). On launch Sunday 594 people attend, and 36 people gave their lives to the Lord! Every service is a big party with food, families, and fun. They preach in English but offer simultaneous translation devices during the service. This feature allows multigenerational families to attend church together.
"It's been really cool to see people express outwardly what they've decided to live inwardly."
Generation Church is now in its third year. The Romeros have witnessed nearly 60 people follow God in water Baptism since they've launched. "It's been really cool to see people express outwardly what they've decided to live inwardly," Rich says.
Generation Church has expanded to two services on Sunday morning, and recently secured its first permanent facility to use as office space for staff, team nights, training, and a new internship program. And the Romeros are looking forward to even more exciting developments this year.
Tina is an assistant principal at a school in Homestead, Florida. It's located south of Miami, almost to the Florida Keys. When Generation Church launched, the principal of Tina's school was not a believer. Rich recalls, "She had her doubts about the church and what we were doing. But she had something unexpected happen in her personal life and began attending Generation Church. She was radically saved and experienced an incredible transformation in her life."
Recently the school Tina works in purchased a performing arts center, and the principal has asked the Romeros if Generation would launch a campus in Homstead. Rich and Tina understand this could be an incredible opportunity to occupy a rent-free building. They are continuing to pray about their second campus and all that God has in store for their church this year.
Rich says, "When I think about the highlights from the past two years, I think about the individual stories from people and families that have been transformed. This is not my church plant. I'm merely stewarding it. I don't care how big of a dream it is for me and how much work I put into it; at the end of the day, it's His Church. He's going to grow it. He's going to fund it. He's going to grace it. It's incredible how faithful He is."
—
To learn more about Generation Church, visit mygeneration.cc.
Next Article
Previous Article